Aspire AVP Pro Pod Kit
Aspire AVP Pro Pod Kit
Aspire AVP Pro Kit
Kit includes:
1 x Aspire AVP Pro Kit Battery Unit
Aspire AVP Pro 2ml Refillable Pod
Aspire AVP Pro 0.65 Ohm Mesh Coil
Aspire AVP Pro 1.15 Ohm Standard Coil
1 x Lanyard
1 x Micro-USB Cable
1 x Warranty Card
1 x User Manual
Aspire AVP Pro Pod Kit
Aspire AVP Pro Kit is  the latest from the AVP Pod Kit family and now given us more flexibility to run the kit to suit your taste. You now also have the option to switch between four wattage options too through the coils which is a game changer. The AVP Pro kit has a built in battery capacity of 1200mAh and has a choice of 2 coil types that run on either 0.65 Ohm or 1.15 Ohm, meaning the battery life should also last full day with no fuss. The Aspire AVP Pro Kit settings can be achieved with just a couple of clicks and it will give you the option to vape on 10W, 12W, 14W or 16Watts. Another cool feature is that the wattage will remain constant regardless of the charge in the unit.
The device itself is a piece of art and very striking. It is small and slim-line with a length of  just 96mm, width of 44mm and thickness of just 17mm (no bigger than average car key). It has an indicator light at the bottom of the device which also controls the settings and a micro USB charging port underneath. The pod that is also the mouth piece that comes with the AVP Pro kit has a 2ml capacity and now with the pro version you can also change the coils according to your preference.
In regard to the pods, It very easily interchangeable without any mess to allow users to switch pods in no time. Users are now able to chose between coil preference for the ultimate vaping experience, you get 1.15 Ohm standard coil and 0.65 Mesh coil. The Aspire AVP Pro Kit comes in four awesome finishes that suits all users. Included in the kit is a lanyard to help reduce the chance of losing your device due to how small, slim and light it is.
The kit has built in safety features that Aspire are well-known for from automatic cut off, short circuit protection, low voltage protection, overcharge protection and an over heat protection. In regard to charging the device, it can reach a maximum charge current of 1000mAh. When the USB cable is attached, the LED light indicator will flash 3 times. When charging 3.5 volts or less it will indicate with a red light, between 3.5 to 3.8 volts with a blue light and 3.8 volts or higher in a green light. Once fully charged it will indicate from the LED light with 2 green flashes and then remain off. We rate this device 10 out of 10.
Power Option Display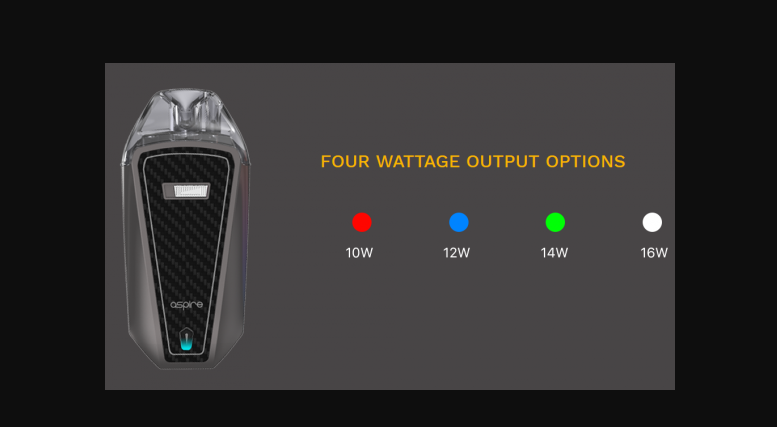 Aspire have also ensured that the AVP Pro Kit comes with all the safety features that Aspire are famous for:
Automatic Cut Off
Short Circuit Protection
Low Voltage Protection
Overheat Protection
Overcharge Protection