Smok Stick V9 Kit
Smok Stick V9 Kit
Smok Stick V9 Kit
SMOK Stick V9 battery module
SMOK TFV9 Mini 2ml TPD tank with 0.4 ohm Q2 coil fitted
1 x 0.4 Ohm Baby-Q2 coil
1 x Glass protection Band
1 xUSB Charging Cable
User Manual
Sub ohm vaping
SMOK TFV9 Mini TPD Tank Features:
2ml TPD compliant liquid capacity
Easy refill swivel mechanism for a quick and simple top refill
Easy to use and clean
Handles high VG liquids well
Designed for direct-lung vaping
Airflow control
Smok Stick V9 Kit
The Smok Stick V9 Kit consists of the TFV Mini V2 Tank and a 4000mAh battery stick. Very simple and efficient to use and provides great flavour and cloud.
The Stick V9 Kit is available in 6 different colours, meaning there is a colour for everyone. The device is very slick and stylish and fits easily in your pocket/purse without taking up a lot of space. It has a height of 89.2 mm and a diameter of 24.5mm, with a total weight of 133.5g, including the TFV  Tank.
This is no child's play as it's very powerful and durable. It is charged through a Micro USB Port located on the back of the device. It has an intelligent battery life indicator which indicates 4 times every time you take a puff and then flashes rapidly 15 times to indicate low voltage, meaning it is time to charge.
The device is also safe to operate as the kit has special Smok system protection with an 8 second cut off, a low resistance protection, a short circuit protection and a low-battery warning. The TFV mini that is paired with this kit is great for flavour and large clouds, with a wide drip tip and an adjustable airflow system. Smok Stick V9 Kit is a top re-fill system, which makes it significantly easy to top up when it is low by pushing the top cap and moving it counterclockwise. You simply fill through the slot and not down the central airflow tube, otherwise it will leak through the airflow ring. Just close carefully and firmly. We rate this device 10 out of 10.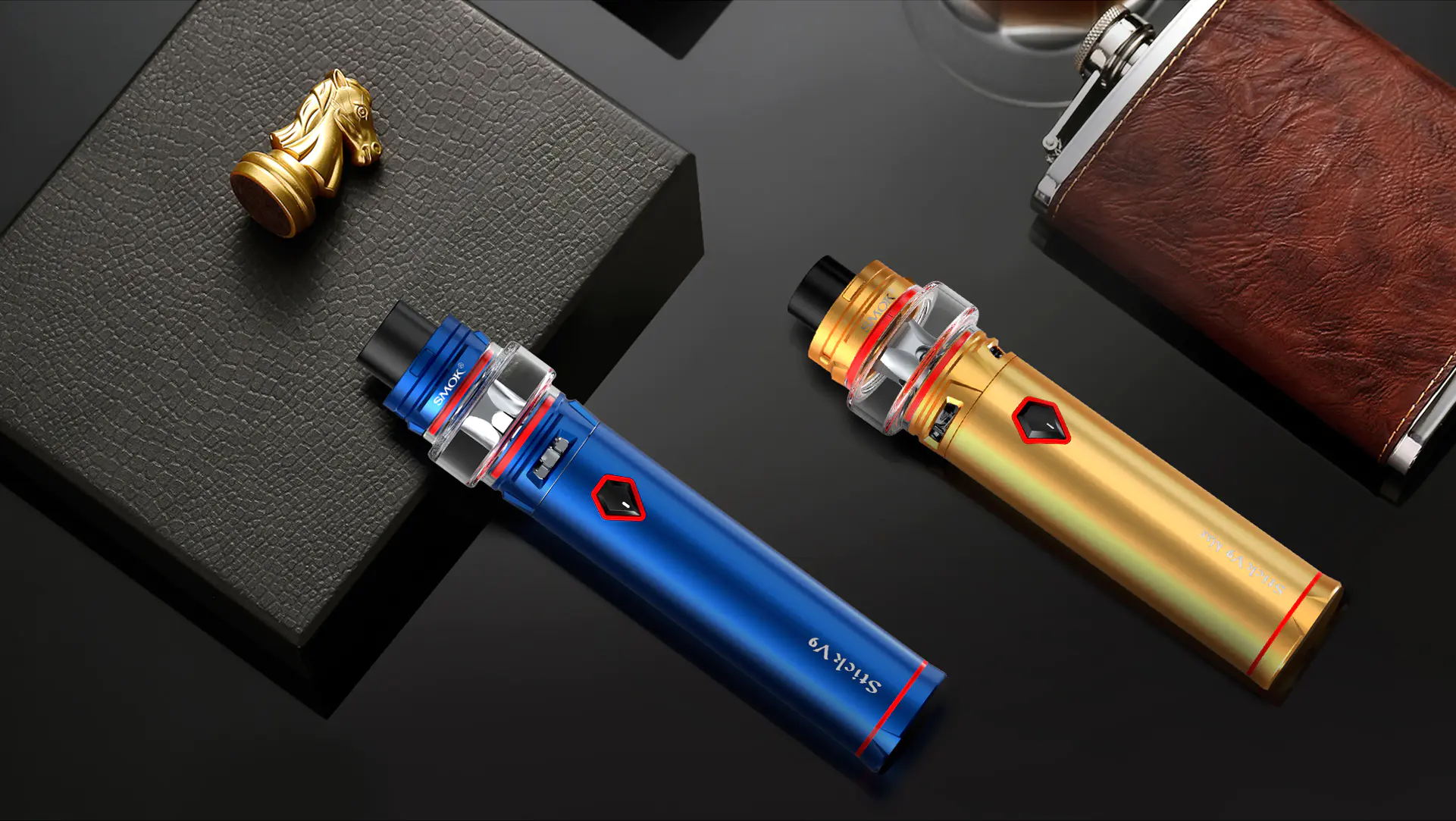 WHO IS THIS FOR?
This device is ideal for people on the go that enjoy big clouds and a 70/30 VG/PG Ratio eliquid is ideal. more liquid can be found here